I don't have a joke to begin this with. Actually, I do know some pizza jokes, but when I think of Pizza Humor, I think of Mike Birbiglia. I love Mike Birbiglia, and he loves pizza. So with that, check out one of his Secret Public Journal entries about
Pizza Math
.
Last week we went vegetarian and made a
Black Bean Pizza
.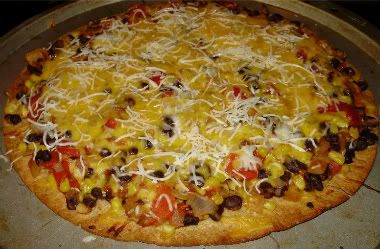 It was actually super easy, and super delicious. I tweaked the recipe just a bit:
I washed the canned black beans in water quite a bit to get the sodium off, and whilst doing this I threw some frozen corn into the colander.
When I added the can of tomatoes I also threw in a can of diced green chiles
I also added about a half a bag of taco seasoning to the mixture
Cooking the pizza crust a little on it's own before hand is a must to avoid the dreaded soggy pizza crust. I think the addition of cheese before the sauted portion helps keep it firm too
We also added taco sauce to the top when we consumed the pizza, because it wasn't spicy enough on it's own. Next time I'll add diced jalepenos and see if that gives it some more oomph. Overall, this was a really good and somewhat healthy recipe. Definitely cheap since it uses a can of beans for the protein instead of meat, so I'm giving this recipe a B+.