Before I get on to the deliciousness of this Irish day, Gordie and Toby want to say Happy St. Paddy's Day:
I started with Gordie, because I knew he wouldn't try to eat the hat. Then I moved on to Toby.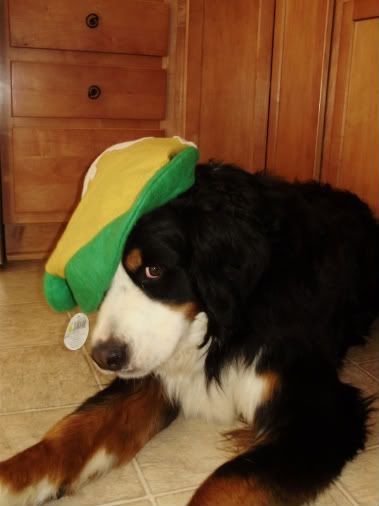 I couldn't quite get the hat to stand up.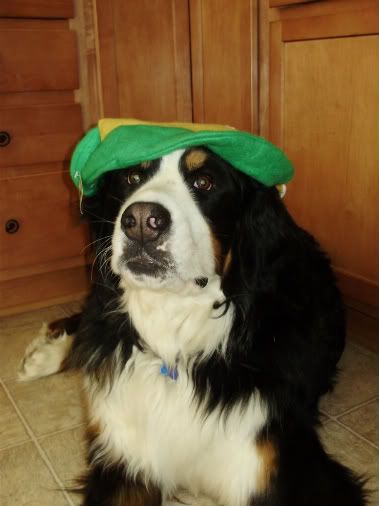 You get the idea though.
The real point of this post though, is to highlight these: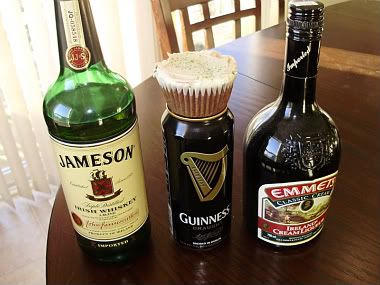 I got the recipe for Guinness Chocolate Cupcakes with Bailey's Irish Cream Icing from the
Smitten Kitchen
. I followed it pretty much to a T, but I didn't have that fancy cutter to get the middle of the cupcake out. I used a knife instead, which worked just fine. I didn't
just
pick the recipe for the booze, I'd actually heard from a few people they were super tasty. The booze was just an added incentive.
After lunch at my Mom's house I am currently digesting Reuben Soup and Irish Soda Bread while this
Guinness Corned Beef
simmers on the stove top.
Remember, St. Patrick's Day shouldn't be all about the beer and shenanigans, the food should be appreciated as well.
Along with a small pinch of shenanigans and beer.
So Happy St. Patrick's Day and I extend the following Irish Blessing to all reading:
Wishing you a rainbow
For sunlight after showers—
Miles and miles of Irish smiles
For golden happy hours—
Shamrocks at your doorway
For luck and laughter too,
And a host of friends that never ends
Each day your whole life through!