I began making this dip at some point in college. I have no idea where the original recipe came from, but it's so flippin' easy I just have to share. I made this for my work's MSU vs. UofM tailgate party on Friday. Part of the work celebration was a "Decorate Your Cubicle" competition. I decked mine out in all the MSU gear I could find, and I got second place! Go State!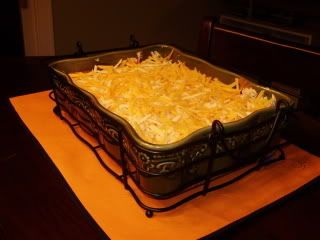 Mexican Layer Dip
1 can of refried beans
1 jar of chunky salsa
2 packs of cream cheese
1 tub of sour cream
1 package of taco seasoning
1 block of sharp cheddar cheese
1 block of monterey jack
Spread the refried beans along the bottom of a pan. I use 9x13, but you can use whatever you've got on hand. Spread to the thickness you desire. If you don't like beans, you can always skip them too.
Pour salsa over the beans and spread evenly.
In separate bowl, mix together the sour cream and cream cheese and taco seasoning. You can add vary the sour cream and cream cheese to get the thickness you desire, and also vary how much taco seasoning you use to vary the spiciness.
Spread the mixture on top of the salsa.
Shred the cheeses and put on top - viola! Easiest. Dip. Ever.
I like this basic recipe because you can vary it to your own personal tastes. My mother skips the salsa and beans altogether. You could add black olives on top or mix some green chiles or jalapenos into the creamy mixture to add some heat. Whatever suits you and your tastebuds.
Oh, and in case I haven't rubbed this in yet. . . .
GO STATE!