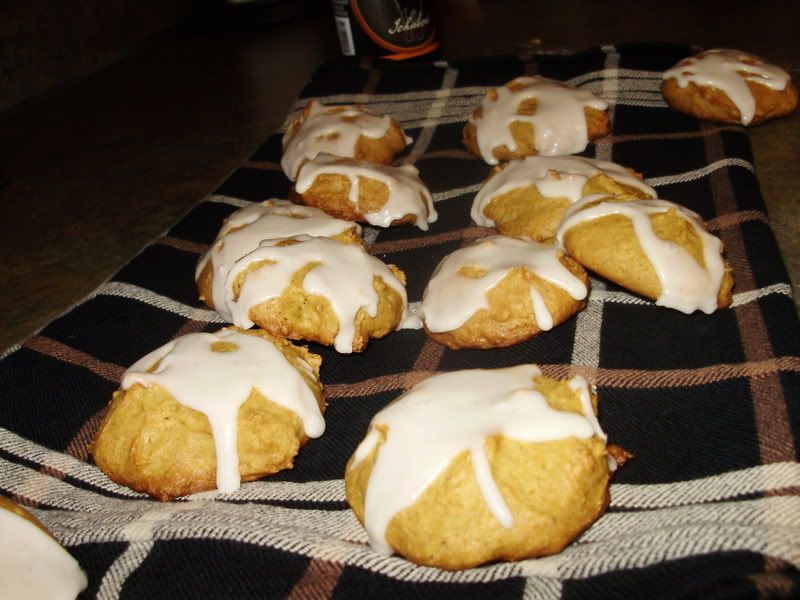 Last night, I finally fulfilled one of my wifely duties. I baked. Andy granted me 100 wife points. But I also asked him to open a beer for me, so I think I lost some wife points then. Did I mention that while I was baking (and doing a load of laundry mind you) Andy sat on the couch and watched the Red Wings game? Yeah, apparently that's how he earns his husband points.
But I digress - back to the cookies. I had seen the recipe online and felt like doing something festive. As a non-baker I had to go to the store and purchase alomst all of the ingredients. I had never needed baking soda, baking powder, etc. before. And yes, I did have to make a second trip to get a bag of powdered sugar after Toby's
breakfast incident
yesterday.
Here's the recipe I followed:
Iced Pumpkin Cookies
I did everything by the recipe, except I didn't have nutmeg, I used 1/2 a cup of brown sugar and 1 cup of white sugar, and the glaze needed about 2 more tablespoons of milk to get the right consistency.
Overall, I think they're tasty! Also tasty was the delicious beer I consumed while baking.
New Holland Brewing Company's
Ichabod.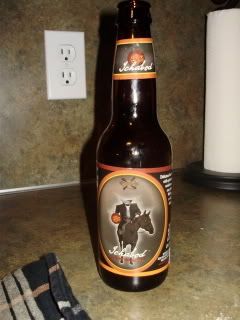 It's a nice pumpkin spice beer. A lot of time I find spice beers to be too overpowered by the spice, but this is much more subtle.
So, it's hard to get a true verdict on the cookies, since Andy will eat anything and like it. I'm bringing these cookies tailgating tomorrow, so I don't know that a group of drunk hooligans will give me an informative critique either. Which means my opinion will rule supreme, and I give these cookies an
A.