Well, since my bro was having a birthday gathering on Saturday night, Andy and I figured what better time to checkout the Hastings brewery -
Walldorff Brewpub & Bistro
.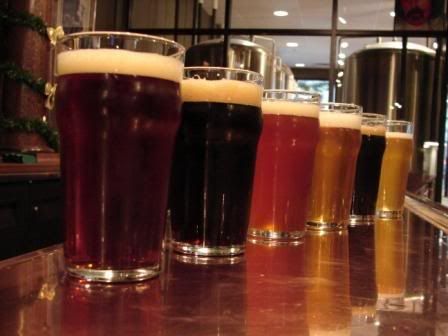 I really liked the atmosphere of the pub. It was a Saturday evening so the place was hopping. But more important than the atmosphere of course, is the brew.
I first had the State Grounds Java Brown Ale. Now, I love a coffee stout, so perhaps I was disappointed because that's what I was expecting. Too much hazelnut. Too thin/watery. Not a good start.
Next I had the Padawan Pale Ale. MUCH better.
Andy had the State Street Oatmeal Stout and the Pilgrim's Porter. Both very good. I think my favorite out of the 4 we tried was the Oatmeal Stout.
They had a Hopnoxxious Bourbon IPA available and I would have preferred a standard IPA - I'm generally not a fan of the barrell aged brews.
And I can't forget to mention the food, because it was De-Licious. Andy had the reuben and I had an appetizer - A Cajun shrimp and sausage cheese dip with various dipping items. Both were wonderful. The service was great too.
Overall, this was a great place and we're looking forward to returning in the near future. I'll just steer clear of the Java Ale next time.