We ventured up to Winter Carnival 2 weekends ago. For those of you who don't know what Winter Carnival is, it's an event held by Michigan Tech where ice sculptures are created for months in a schoolwide competition. Although that may be the surface description, for most Tech students it's really just an excuse to drink heavily for 5 days straight.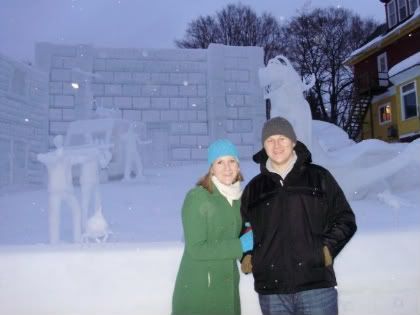 So, we embarked on the 9 hour drive up to the tippy top of Michigan's UP. Trust me, I would have much rather driven 9 hours in the OTHER direction and ended up somewhere warmer. Ok, it really was fun and I love the UP, I just wish it wasn't so darn cold.
Here's the gentlemen that really brought us together for the occassion: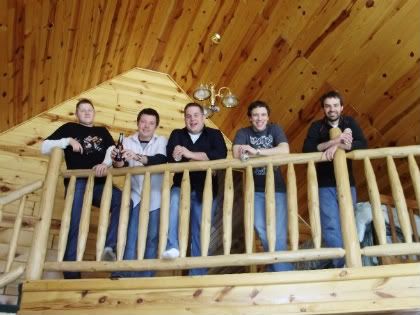 Those are the Tech alum - minus Joe who arrived late Friday night. And minus the only Tech lady Alum among us, Jackie.
The statues were pretty cool, but it was actually hoovering just above freezing when we were there so many of them were melting. The theme was Outer Space, so we saw more than one Wall-E:
A pretty cool Futurama themed one:
But first place went to the Men In Black themed statue: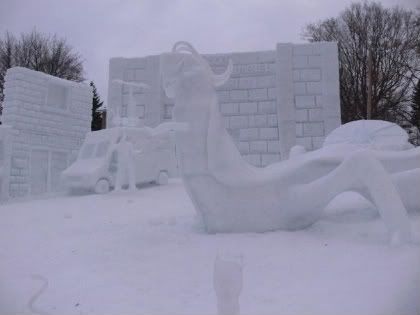 The amount of detail in some of these are AMAZING. That MIB one even had the street signs carved out in ice.
We also took in a few minutes of the somewhat strange MTU tradition of broomball: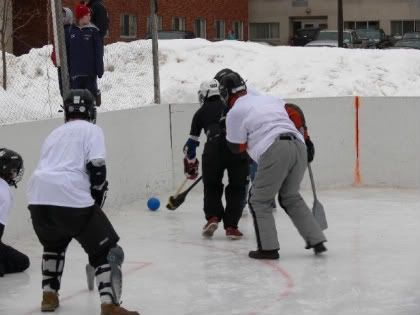 Kind of like hockey, except instead of a stick you have a taped up broom, instead of a puck you have a small ball, and instead of skates you just wear tennis shoes on the ice. So there's a lot of falling going on through the game.
The boys also took us on a tour of the dorms and campus buildings, which had since undergone major upgrades since they graduated 5 years ago.
Aside from enjoying campus and the sculptures, we of course did our fair share of drinking. And the others did their fair share of eating pickled eggs - I'd guess somewhere between 30-40 were consumed by 10 people in a 3 day period.
We visited the Keweenaw Brewing Company, which makes delicious beer. We've been there a few times and they sell cans of some of their brews down here. It was at this bar that I heard a Yooper say with heavy Yooper accent:
"Yah, gimmie some of dat der Amber beer and put a lotta head on it, ahhkay?"
You've gotta love Yooper speak, eh?
We dined at a local seafood establishment where we had the most awesome waitress ever. She was about 70 some years old and a Scottish immigrant. She's lived many places but says that Houghton can't be beat becuase of the way of life and the people up there. I can agree with that, to some extent. She also told us how when she worked in Chicago she would take lunch breaks in Wisconsin because "she deserved it" and that when she worked in Canada her and her friends would come to Detroit to get "royally ripped".
Then at some point, we ended up at the local bar of Chassell, just outside of Houghton. It was at this location that the boys got together and sang "Afternoon Delight" to us and the 4 or 5 locals gathered at the bar.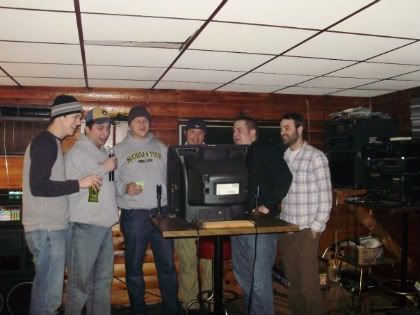 It was a great time and I can't wait to go back next year.