We officially embarked for sunny California on Friday morning. The real work had come the night before, however, as we stuffed and readjusted our packs to make sure they weighed less than 50 pounds. I am not a fan of having to pay ANY money to check a bag and I sure as hell am not a fan of paying $100 to check a bag. Thankfully, we skirted in at around 45 pounds per bag when all was said and done.
We picked up the "Jeep Commander or similar" from Avis and it turns out we got something "similar" in a 7 passenger Ford Explorer. We somehow managed to clown car 6 people, 6 packs and assorted other carry-on luggage into and on top of the vehicle.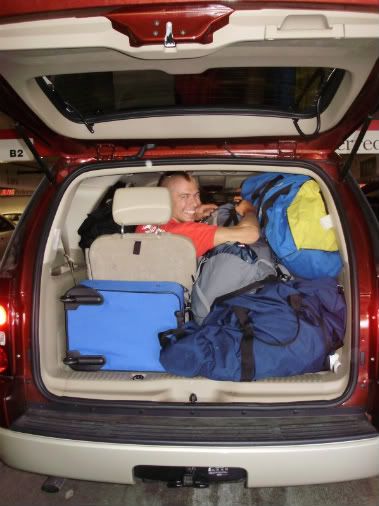 And thus began our 4 hour turned 7 hour trip into the park. Traffic was not our friend but we made it through the long and winding roads up over the mountains and down into the valley.
Also, apparently if you travel about 10 minutes away from the Pacific Ocean, Califonia turns into a barren, brown and yellow dessert-like wasteland where humans and the color green are seldom seen.
We settled into camp then ventured to the restaurant in Curry Village for some beers. However, after battling the hoards or visitors we ended up buying 4 Joe Six Packs at the village store and enjoying those away from the tourist trap bar and pizzeria. I can't remember the exact statistic, but it's something along the lines of the Yosemite Valley is the densest population of people inside a National Park. However, once you travel a mile away from any trailhead, Yosemite becomes the least dense population of people. After dealing with the high dense area for 5 minutes I was ready to run screaming 1 mile in any direction.
After savoring the last bit of beer my liver would would have the joy of processing for the next week, we fell asleep, only to be awoken around dawn to someone clapping and shouting "GET OUTTA HERE BEAR! GET OUT!"