. . . must come down.
Day 4 marked our largest decline of the trip - from somewhere around 9,000 ft down to about 7,000 ft. I actually prefer ascents to descents, because I have a strange desire to still have functioning knees when I'm 40 years old.
I forgot to include one of my favorite pics from the trip of Day 3 - when the boys were horsing around on the mountain and using angles to their photo-taking advantage.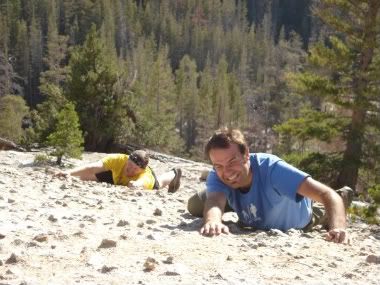 We were
supposed
to have a nice easy 4 mile day and stay at Lake Merced. SUPPOSED TO being the imperative phrase here.
So, we began our walk down. Now, adding to the difficulty of the day, was the trail itself. Silly me thought we'd have dirt to walk on. But the Yosemite Trail Crew figured it'd be fun to make people walk down pointy, jagged little rocks. My ankles hate you, Yosemite Trail Crew.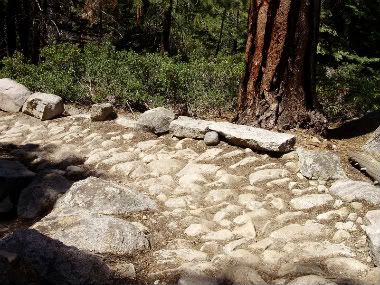 After awhile I could see our goal in site, Lake Merced: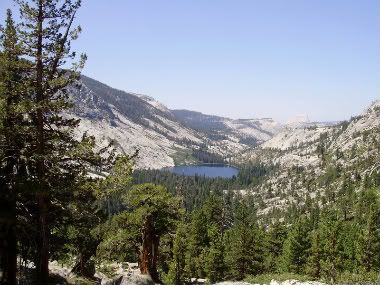 I also admired a large pinecone along the way.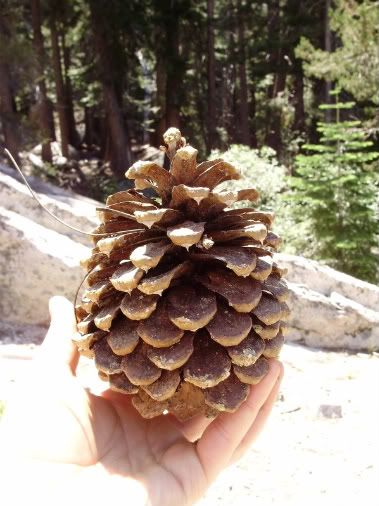 Finally, we made it down to the eastern edge of the lake, where the Merced Cabin stood.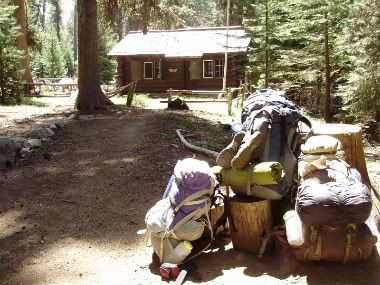 This is where we met Jeanie. The first thing you need to know about Jeanie, is that she kindly offered us water from a faucet and took a group photo for us.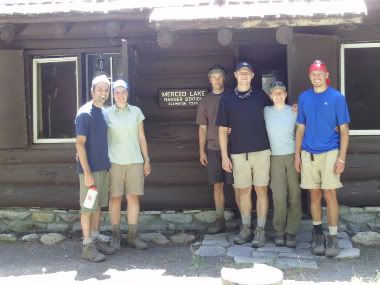 The second thing you need to know about Jeanie, is that I hate her because I'm insanely jealous of her job. She gets to stay in that cabin for varying amounts of time and cook for the rangers and trail crew. SHE GETS PAID TO DO THIS. But, the grass is always greener, right? She's probably totally jealous that I get to sit behind a computer for 8 hours every day, right? Jealous that I get to look at green cubicle walls while she's forced to look at impressive MOUNTAINS and CASCADING RIVERS and ALPINE LAKES, right? RIGHT?!??
Moving on, when we strolled into the Lake Merced campsite area, we were sorely disappointed. It was an organized camping area - much like you would see at any ol' campground. Now, part of the fun in open backcountry camping is finding your own beautiful campsites. We deemed Lake Merced campsites Lame (capital L) and trudged on to find somewhere better. I stopped to take a few pics of the lake of course.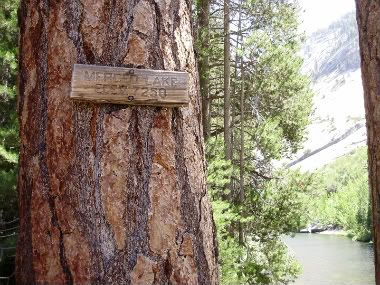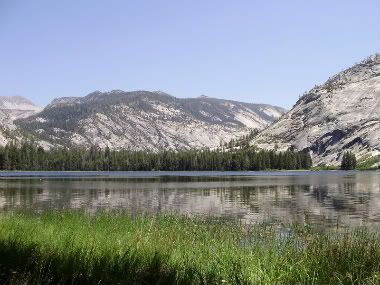 This is where our short, easy 4 miles turned into an endless feeling 7 miles. The trail followed the river . . .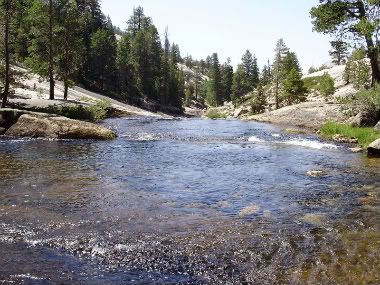 However, we were walking on cliffs, which are kind of difficult to set up camp upon. Especially considering the rule that tents need to be 100 yards from the trail. It looked pretty though.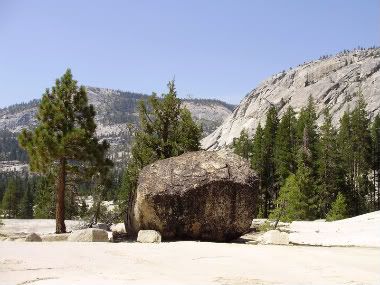 We trudged on and on and on and on and on. Along the way, we made our 2nd bear sighting. A cub was playing in a dried up river bed. Unfortunately he scampered away before I had time to snap a photo.
Now, bear sightings may seem fun, but you must remember this equation: Cub = Nearby Protective Mama Bear. And we were trying to find somewhere to set up camp. Since none of us had a strong desire to get eaten by a bear, we moved on.
Finally, we found adequate housing over the river and set up camp.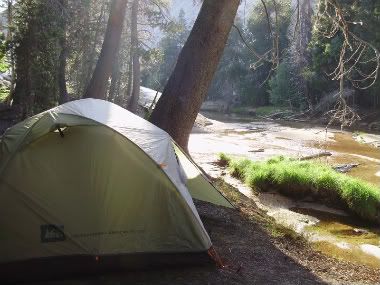 A buck mule deer also set up camp nearby.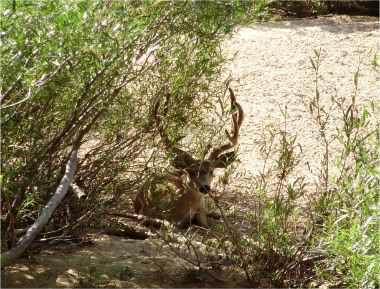 The boys swam and sunned on a rock.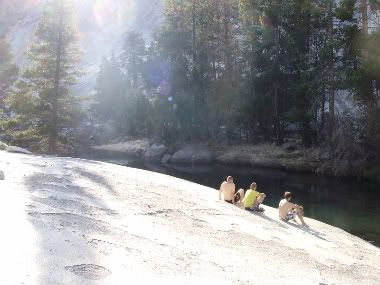 My husband participated in a quick Senior picture photo shoot.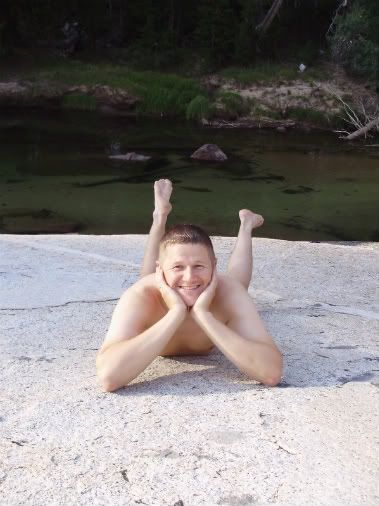 I promise he's wearing a bathing suit.
And finally the sunset on Day 4.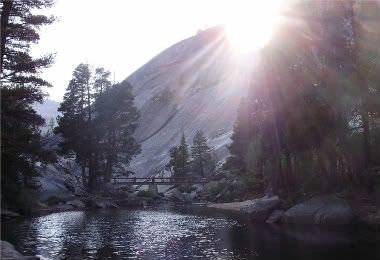 And as the sunset, we lit another campfire and Andy created a man chair with a back to it.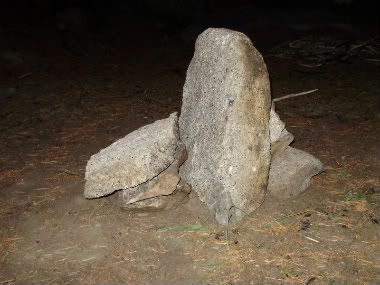 We went to bed early, because we needed to get up early - we
planned
to hike 13 miles tomorrow in our ascent of Half Dome. I say "planned," because once again, the next day didn't exactly go as we thought it would.