Andy's birthday surprise trip was a success. He was surprised and we had a great time - Andy even won some moolah. I thought I'd take a moment to review the breweries and beers sampled on the way down and way back up. We only made it to 2 different places, but that's 2 more we can check off the list.
Brewery #1 -
The Livery
- Benton Harbor, Michigan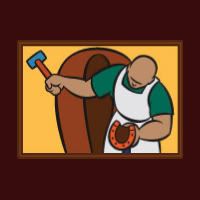 We had a great time at the Livery and our whole experience exemplified why I LOVE small/hole-in-the-wallesque breweries. We arrived around 1:30 pm and it was just us, a family finished lunch, the bartender/owner and a guy from Houston. Here's why I loved The Livery and why I love hole-in-the-wallesque breweries:
#1 -
The bartender always has a good story -
In this case, the bartender entertained us and Houston (I don't know his name, so I'm calling him Houston) with the story of how the bar came to be. Synopsis - They bought the space but didn't know what to do with it. They wanted to do something with live music because the market was lacking in the area. Then there was a giant wind storm and they came to survey the damage with some beer in tow. Whilst drinking the beer and surveying the damage the light bulb went off - live music + microbrewery = non-existent in Southwest Michigan. And so The Livery was born.
#2 -
The people -
We were there early, so there were only a few of us. But Houston had a pretty awesome story. He had a trip planned to Detroit to visit his buddy. His buddy bailed on him at the last minute, but he didn't want to cancel his flight, time off work, etc. so he came to Michigan anyways to embark on a brewery tour. Way to make lemonade out of lemons, Houston. The Livery was stop number 3 on his brewery trip from Detroit to Chicago.
#3 -
The beer -
No brainer there. This stuff was GREAT. My favorite was actually the Dunkle Weizen - a dark wheat ale. I love wheat beers, and I don't get to try dark wheats very often. This was a treat.
Brewery #2 -
Old Hat Brewery
- Lawton, Michigan
We arrived early on Sunday, just in time to see the Lions gain a large lead and then lose it in a matter of minutes. Good job, Lions. But, I digress. I'd have to say this brewery was a disappointment. The beer just wasn't that good. The brewery itself seemed rich in history and I liked the atmosphere of the place. It sounded like a nice family run little joint - mom was in the kitchen, daughter was our bartender and dad was owner and in and out throughout the visit. We didn't have a bad experience by any means, but I just left the place less than impressed.
I'd have to look at the list, but I that these were breweries #14 and #15 visited in the state. Only about 40 left to go.