What did Mama Buffalo say to her son when he went off to college?
"Bison"
I've been cooking. I swear. Honestly. I just haven't been so good about documenting my cooking escapades via photos and this blog. I'm trying to improve though.
Last night we attempted a variation on this recipe:
Buffalo Chicken Pizza
Howevever, I made so many changes, I'm going to write it up myself.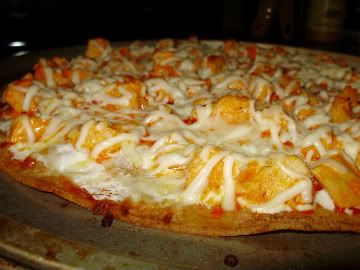 Ingredients:
2 grilled chicken breasts - cubed
1 T butter (melted)
1/4 cup Frank's Red Hot
12" whole wheat premade pizza crust
1/2 cup bleu cheese dresssing
1 cup mozzarealla cheese
Steps:
Preheat oven to 425 degrees and insert pizza crust. Cook for 5 minutes.
While crust is cooking, mix together the butter, Red Hot and chicken
Remove crust from oven and spread blue cheese evenly over crust
Top with chicken mixture
Sprinkle mozzarella over pizza
Put pizza back in oven and cook 5 - 8 more minutes
Remove and sprinkle some more cheese on top and let sit a few minutes before cutting
Andy and I both thought the pizza was delicious. However, Andy says he would have used ranch, but I enjoy the flavor of bleu cheese. Next time I will try with ranch just to compare. I will also omit the butter completly - I halved it from the original recipe but found it to be unnecessary (and not as healthy). Using FF ranch next time will also up the healthy factor.
I love this as a base recipe for a different and unique tasting pizza. It wasn't too spicy for me and wasn't spicy enough for Andy so he added more Red Hot to his. Overall I'd give this first attempt a B with the potential to become an A with a little more tweaking.