Last night Andy and I decided we were much too lazy to cook for ourselves and would prefer to drink a beer while someone else made us dinner. Which led us to . . .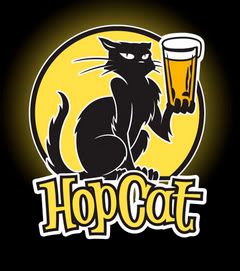 Hopcat. We'd been there before a couple of times for a beer or two, but never for a meal. And M-F they run a special - a beer, a burger and a batch of cracked pepper fries for $5.
They have a great beer selection and recently started introducing their own brews into the mix. We visited them at the Winter Beer Fest and I was looking forward to trying one of their creations. I was a little disappointed because they only had 2 of their own on tap - Barely Wine Barleywine and Oblong Belgian Style IPA. I'm not the biggest barleywine fan, so I opted for a pint of the Oblong to enjoy with my meal.
It was good - just good. It didn't knock my socks off but it was pleasant enough. I enjoy an IPA and this certainly wasn't as hoppy as some can be, which I liked.
The fries were probably the best part of the meal. Perfectly seasoned and a little crispy - just the way I like 'em.
The atmosphere is great and we had good service. I think we'll be going back sooner rather than later - it appears they have a few more brews in the kegs so we'll probably wait until they have a few more of their own options on tap before we return.